LEVERAGE THE LOVE OF PHOTO BOOTHS TO ENHANCE YOUR BUSINESS' SOCIAL MEDIA IMPACT
Meet Your New Social Media Manager
Since they first appeared, photo booths were generally only seen at company parties, weddings and special events. And wherever they are, people can't get enough of them.
Introducing Hello Booth, a compact and beautiful open air photo booth designed to fit in your business to leverage the love of photo booths and selfies.
Supercharged Engagement
Having customers and guests promote your business on their own social media channels is a dream come true and now it's not just easy to do so, you won't be able to keep them away from Hello Booth.
They simply walk up, type in their phone number or email, hit GO and Hello Booth does the rest. With flattering LED lighting and either one pic or a GIF, your customers picture will be transported to their phones to upload to Instagram and Facebook.
The pics also go to your custom business gallery, where you choose which photos go to your own social media channels.
THE HELLO BOOTH EDGE - IT'S ALL ABOUT THAT LIGHT
Our compact and visually appealing unit houses everything you need. Beautiful LED lighting, your iPad Air 10.5"* and power to keep the selfies flowing all day.
BEAUTIFUL HARDWARE +
INTELLIGENT SOFTWARE
With our thin and lightweight design, Hello Booth can be moved to anywhere in your business or kept permanently in one spot. You can even choose between Hello Booth on a stand or wall mounted for the perfect selfie station.
Our intuitive software is easy to set up and customize for you and then a breeze for your customers to start snapping pics and posting on Instagram and Facebook.
Our staff was so excited when we added Hello Booth to our salons. They had so much fun with their guests getting those perfect "after shots" and then posting them to Instagram. A real game changer for us.
Aubrey Garcia
Marketing Director, Tangerine Salons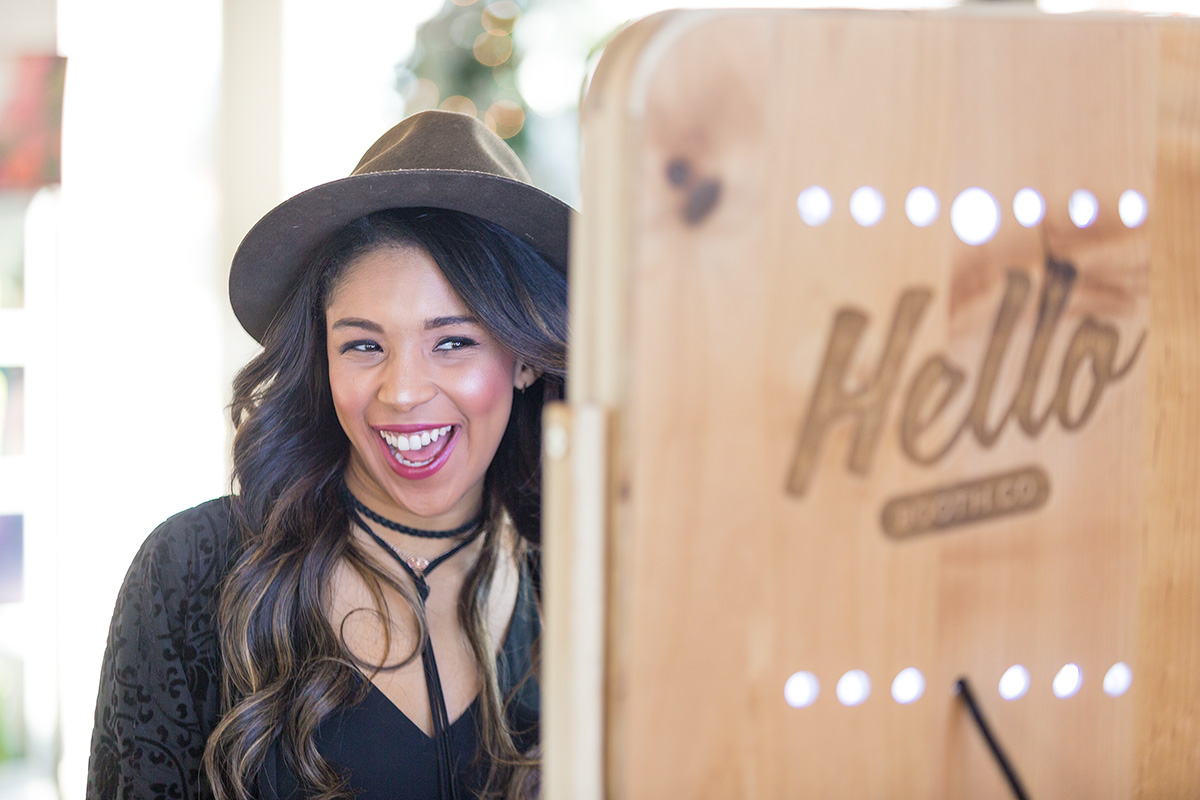 The Perfect Tool
Hello Booth pairs high quality wood, stainless steel and perfect LED lighting with precise workmanship to create a tool that both guests and staff can use to effortlessly promote your brand on their social media.
By instantly sharing photos of themselves with your custom hashtags and logo overlay, you will see an immediate impact to your marketing efforts bottom line.
Don't leave your social media to chance. Provide an easy, fun way to fill up Instagram with photos from your customers and guests.
Choose Your Plan
After you purchase your Hello Booth, simply subscribe to one of our monthly subscriptions that powers the text message distribution and hosting of your personal business gallery. Each plan also includes all the custom features designed to white label your Hello Booth images with custom logo overlays and hashtags.
Add Rocket Fuel to Your Social Media
Let's Do This!
Beautiful hardwoods, stainless steel fittings and flattering LED lighting make Hello Booth a beautiful addition to your business decor. The easy to use app gives your clients a fun experience for them to share their experience with the world.
Step One
Purchase Your Hello Booth in the options that best fit your decor.
Step Two
Simply add your iPad Air 10.5", download the Hello Booth app, subscribe to the plan that fits your need, and prepare for lift off.
$25 / Month with Annual Plan*
2000 Images per Month
Text Message Delivery
Single Pic or Gif Output
Custom Logo Overlay
Custom Hashtags
Branded Sharing Gallery
$45 / Month with Annual Plan*
5,000 Images per Month
Text Message Delivery
Single Pic or GIF Output
Custom Logo Overlay
Custom Hashtags
Branded Sharing Gallery
*$45 / month to month with Standard Plan. $60 / month to month with High Volume Plan.